PERSONALISED PENDANT WITH BUTTERFLY: 31% OFF!
Are you searching for the perfect Personalised Pendant with Butterfly? Please take a look at our curated selection of products — and purchase for 31% off.
Inventory is running low, so act fast—our store guarantees quality and a selection like no other — all with a 100% satisfaction policy. So, ADD TO CART now!
PERSONALISED PENDANT WITH BUTTERFLY DETAILS
Item Type: Pendant
Material: Stainless Steel
Gender: Women
Chain Length: 35 cm / 13.78 inch, 40 cm / 15.75 inch, 45 cm / 17.72 inch, 50 cm / 19.69 inch, 55 cm / 21.65 inch, 60 cm / 23.62 inch
Features: Personalised
Chain Type: Link Chain
Package Includes:
Personalisation Info: 
After buying the pendant, you need to send the name to our customer service, quoting your order number (Support@RBJewellery.com).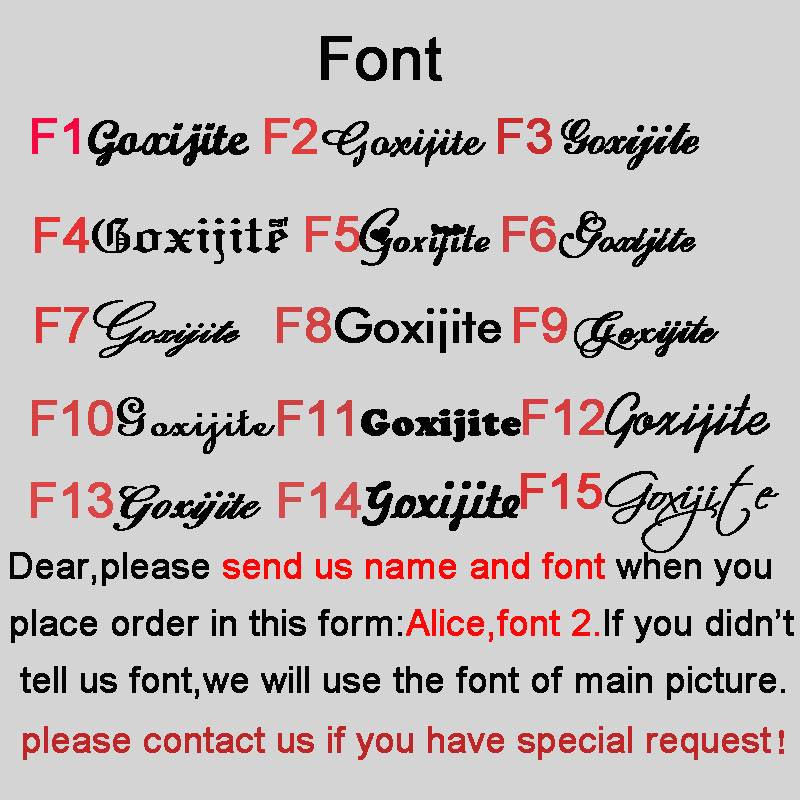 That's an offer you don't want to miss out on because nothing lasts forever! So ADD TO CART the product variation you want, and become a happy owner!
PRODUCT QUESTIONS & ANSWERS
Do you produce the Custom Name Necklace according to the industry standards?
Selecting items for our store, we solely focus on the products that meet the industry standards, so you don't have to worry about the Personalised Pendant with Butterfly.
How do you produce these?
The quality of our products is one of our primary concerns. In addition, we make sure that no toxic materials are used to craft our Personalised Pendant with Butterfly.
If I buy your Custom Name Necklace, do I also have to pay taxes?
Whether your Custom Name Necklace is subject to taxes is defined by your local legislation. In any case, the checkout page will show you the final price, including taxes (indeed, if they are applicable).
Do I violate any law if I post a picture of my purchase on Instagram?
We are always happy when our customers share photos and videos of our goods online, so enjoy your new product to the fullest!
Does this product have any strengths in the eyes of its previous buyers?
As it's pretty affordable, our buyers mention it in their reviews a lot. Moreover, they are typically happy with its quality.
ORDERING & STORE POLICIES
Do I have to indicate my address? Can I request the package to be sent somewhere else?
Glad to inform you that it's of no importance to us where and to whom to send the package. Therefore, you can freely indicate an address different from your place of living.
Is the package secure?
We pay close attention to the choice of packaging materials and the methods of securing the item(s) within the package. As a result, your order will have top-class protection during transportation.
Will the shipping time change depending on the payment option I use?
Please, feel free to choose the payment method that is most convenient for you. However, this will not affect the delivery time.
How many of these do you have in stock?
The number of available products changes daily, which is why there is no universal answer 🙂 But as long as there is no special notification on this page, you can indeed buy the Custom Name Necklace.
Can I find the Custom Name Necklace in offline stores as well?
As a rule, offline stores put higher prices on these and similar products. Moreover, the number of variations they offer can be pretty limited.
Why should I choose your store over the others? After all, I have a lot of choices.
The goal of our store is to provide our customers with premium products at the lowest prices possible. At the same time, our support team tries to make every effort to make all our customers happy with their purchases.